New on the Shelf
Notices
Subscribe via RSS
Branch Closures - National Day for Truth & Reconciliation
Sep 26, 2023
Please be advised all ECRL branches will be closed Saturday, September 30 in honor of the National Day for Truth & Reconciliation.
Port Hawkesbury Public Library and Alexander Doyle Public Library in Mabou will remain closed Monday, October 2 and re-open Tuesday, October 3 with regular hours.
Port Hawkesbury Public Library - Now Open Saturdays
Sep 7, 2023
The Port Hawkesbury Public Library will reopen Saturdays from 9:30am-12:30pm & 1pm-3:30pm beginning Saturday, September 9.
Latest News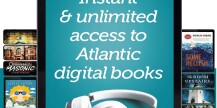 Read Atlantic Now Available
The 2023 Read Atlantic/Lire Atlantique Unlimited Access collection emerges from a collaboration between public libraries in New Brunswick, Nova Scotia, Newfoundland, and Prince Edward Island and the Atlantic Publishers Marketing Association. This initiative provides all public library... Learn More
IACLA Activity Report 2022-23
The Interregional Advisory Committee for Library Accessibility (IACLA) Activity Report for 2022-23 is now available. Access the report in PDF or MP3 formats.
ECRL AGM
Eastern Counties Regional Library's (ECRL) Annual General Meeting will be held on Thursday, June 15 in-person at the ECRL Regional Office in Mulgrave. Members of the public are welcome to attend. Please RSVP to admin@ecrl.ca.