New on the Shelf
Notices
Subscribe via RSS
There are no notices at this time
Latest News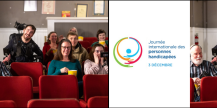 International Day of Persons with Disabilities Dec. 3
December 3rd marks the International Day of Persons with Disabilities (IDPD) proclaimed first by the United Nations in 1992. It is a day to promote an understanding of disability issues and raise awareness on the importance of equal access for persons with disabilities in all aspects... Learn More
Menstrual Program Expansion - Incontinence Products Now Available
ECRL is pleased to announce the expansion of our menstrual product program to include incontinence products to better meet the needs of our communities. Visit your local branch today!
2023 Fall Programming Underway
Fall programming is underway at all ECRL branches. You are invited to stop by and see what sparks your imagination!