New on the Shelf
Notices
Subscribe via RSS
Nov 30, 2022
Sherbrooke Public Library users: the library may need to close at times due to ongoing construction work that is expected to take place from November 30 - December 8. Please call us at 902-522-2180 before visiting to ensure the library is open. We will update our voicemail greeting if... Learn More
Latest News
Holiday Hours
Regular library hours of operation will be impacted over the holidays. Please see below.
Port Hawkesbury Public Library:
Saturday, December 24: Closed
Monday, December 26: Closed
Tuesday, December 27: Closed
Saturday, December 31: Closed
Monday, January 2: Closed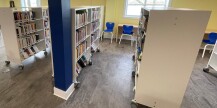 Chéticamp Public Library Service Update
For the past several months Eastern Counties Regional Library staff have been working hard to create the new Chéticamp Public Library. Over 4000 items in both French and English were purchased, catalogued, and then shipped to the new location this past August. ECRL regional team... Learn More
Change in lunch hour at Alexander Doyle Public Library
The lunch hour at Alexander Doyle Public Library will change from 1:00pm-2:00pm to 12:30pm-1:30pm beginning Tuesday, November 22. The library will be open from 9:30am-12:30pm, and 1:30pm-4pm Monday to Friday.