New on the Shelf
Notices
Subscribe via RSS
Jun 28, 2022
Sherbrooke Public Library will be closed July 6, July 7, and July 8.
Canada Day
Jun 27, 2022
All branches* and ECRL's Regional Office will be closed on Friday, July 1 for Canada Day.
*Extended hours will remain available from 7:00am-9:00pm at the Cyril Ward Memorial Library in Guysborough.
Latest News
Additional Hours at Canso Public Library
Effective May 24, Canso Public Library will now be open from 9:30am-1pm on Saturdays, in addition to the regular hours already in place Wednesday to Friday (12:30pm-5:30pm).
Additional Hours at Library Branches in Sherbrooke and Guysborough
Effective immediately, Sherbrooke Public Library will be open 9:30am-12pm and 12:30pm-6pm on Thursdays. The current hours of operation (9:30am-12pm and 12:30pm-3pm) will remain the same on Wednesdays and Fridays.
Effective May 7, Cyril Ward Memorial Public Library in Guysborough will... Learn More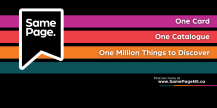 Announcing the Launch of Same Page
One Card. One Catalogue. One Million Things to Discover. Same Page is here! Browse the new catalogue and set up an account here.
Interlibrary Loan (ILL) service is once again available. Many items that previously would have been accessed by Interlibrary Loan can now be easily placed on... Learn More