Hours
The Library Kiosk is available whenever the Civic Centre is open to the public. In general:
| | |
| --- | --- |
| Monday-Friday: | 6:00am-10:00pm |
| Saturday-Sunday: | 8:00am-9:00pm |
| Holidays: | Closed |
Visit the Civic Centre's Facebook page for up-to-date hours.
Watch this video to see how the Kiosk works.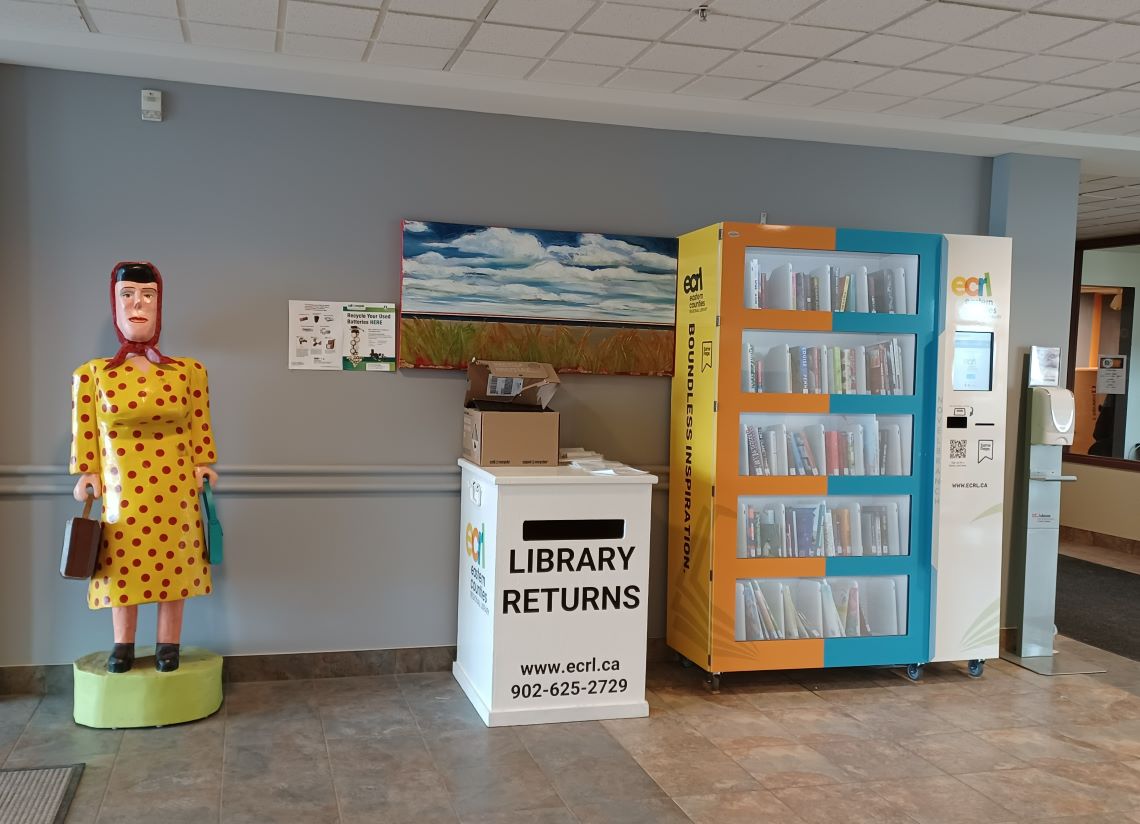 What is the Library Kiosk?
The Library Kiosk is a convenient, self-serve way for ECRL users to browse and borrow books at the Port Hawkesbury Civic Centre.
How does it work?
Scan your library card and enter your PIN number. The door to the kiosk will open.
Browse the shelves just like you would at the library. You can pick the books up, read the description, and put back anything that doesn't interest you. Once you've made your selection(s), simply close the door. The kiosk will register which book(s) you have borrowed and will print a receipt for your records.
How do I know when the items must be returned?
The kiosk will provide a receipt, on paper or by email, with the due date listed for each item. The same rules and loan periods apply to books borrowed from the kiosk as from any other ECRL location.
How do I return items?
Items borrowed from the kiosk can be returned to the kiosk or to any ECRL library or dropbox. If returning items to the kiosk, scan your library card and enter your PIN number. The door to the kiosk will open, and simply put the material back on one of the shelves, close the door, and take your receipt.
If you are returning items that you have borrowed from a library branch, please place them in the return box next to the kiosk.
Contact
Find us at:
606 Reeves St (inside Civic Centre),
Port Hawkesbury, NS
Questions?
Fill out the Contact Form