ECRL Introduces Library Kiosk at the Port Hawkesbury Civic Centre
Eastern Counties Regional Library (ECRL) is pleased to introduce a self-serve Library Kiosk at the Port Hawkesbury Civic Centre. This is a convenient way for library users to browse and borrow books whenever the Civic Centre is open to the public. The Library Kiosk will be stocked with a variety of books for all ages and interests, with new titles added on a regular basis. It is conveniently located near the main entrance to the Civic Centre, across from the Town of Port Hawkesbury offices and just around the corner from the entrance to the gym. Find out how it works!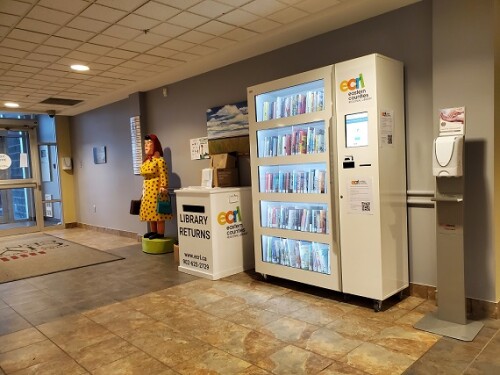 You'll need an ECRL library card and PIN to use the Library Kiosk. To register for a library card or to request a replacement, complete the online form. Or call ECRL Regional Office at 1-855-787-7323 for telephone assistance, Monday-Friday 8:30am-4:30pm.
"This exciting new service will help to make the library more available to the Port Hawkesbury community and folks from the surrounding areas. We encourage everyone to sign up for a library card and enjoy this convenient and fun browsing experience. I want to thank the Town of Port Hawkesbury for their support and assistance with this project," said Laura Emery, ECRL CEO.
ECRL recognizes the support of the Province of Nova Scotia. We are pleased to work in partnership with the Department of Communities, Culture, Tourism and Heritage to develop and promote our cultural resources for all Nova Scotians.